[ Overview | lucernhammer MT | Serenity | Galaxy | Orion | Lyra | Emerald ]
[News | FAQ | Ordering Information ]
---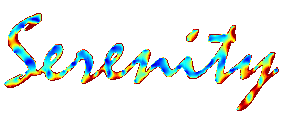 Overview

Serenity is a parallel, low-frequency (exact or full wave) radar cross section (RCS) and signature prediction code that uses the three-dimensional Method of Moments (MoM). It is intended for treating objects of small to intermediate electrical size that asymptotic codes such as lucernhammer MT are ill-suited to handle.

Feature Details
Monostatic and Bistatic complex-valued scattered far field and RCS.

Supports Xpatch-type facet files, and uses RWG basis functions.

Supported are several approaches for solving the MOM linear system:



A traditional full matrix solver that stores the matrix explicitly. Solution is via LAPACK. Suitable for problem that are electrically small.

An Adaptive Cross Approximation (ACA) solver that compresses blocks of the system matrix. The ACA approach achieves a much greater memory savings over the full matrix solver. The Serenity ACA solver performs a direct block-LU factorization of the compressed block matrix, and can solve multiple right-hand sides simultaneously. Suitable for problems of small to intermediate electrical size. Click here for a short briefing describing the Serenity ACA solver.

Iterative solvers accelerated using the Multilevel Fast Multipole Algorithm (MLFMA). A suite of preconditioners are available to assist with convergence of the iterative solvers. Suitable for problems of intermediate to large electrical size. Compression is better than ACA but run times are longer for many right-hand sides.



Supports conducting (PEC) objects, as well as objects that are conducting, dielectric, or composite. Dielectrics may be lossy, and junctions between dielectric and conducting regions are allowed.

Supports multiple run-time geometry files, allowing the user to specify separately the pieces of a composite geometry or scene.

Parallelized using threads on multi-processor computer systems.

A GPU-accelerated ACA solver is available for systems with NVIDIA CUDA capable GPUs. Single and multi-GPU systems are supported.

The ACA solver supports out-of-core (OOC) operation for use with large, fast solid state disks (SSDs).
Serenity is a console based application, and can be easily run inside scripts and batch jobs.
---
lucernhammer &copy 2014, Tripoint Industries, Inc. All Rights Reserved